Google's Keyword Planner Tool is free for anyone to access, as long as you have a Google Account and create an Adwords profile. If you haven't done one or both of those steps, read our blog post on how to access the Keyword Planner tool.
Where the data comes from
Google gets data from three primary sources for the Keyword Planner:
Searches conducted at Google
Searches on third party sites that use Google's results
Page-views on third party sites that are displaying Google advertising
It's the last of those three that is slightly problematic. Google's advertising program allows advertisers to use display ads which are 'mapped' to a keyword behind the scenes. This data does not equate to a search in a way that is meaningful for organic rankings.
However, despite this, the data is, on the whole, extremely useful and it is unusual for results to be significantly skewed from actual searcher behaviour. This is because the less reliable data source is likely to be only a small part of the overall picture.
Data provided
The tool provides several pieces of data:
Keyword suggestions
The average monthly searches
The Adwords competition
A suggested cost per click (how much you would pay per visitor to advertise this keyword)
Search data over time
The level of competition is an acceptable indicator of organic competition, and a good indicator of commercial intent. The suggested bid is a better indicator of organic competition, but is often not available, depending on the keywords you search for.
Data quality
As mentioned above, there are some minor problems with data sources. There are also some additional factors to consider when using the tool:
Search volumes are 'scaled' to rounded numbers
Some keywords are mapped together behind the scenes, but may show up separately in the report with the same volumes (for instance keywords with very minor variations between them)
Google doesn't return all of its available data. This one is quite counter-intuitive, but if you enter a keyword of "chocolate cake", you will not necessarily see all of the data for keywords containing those words, even if their volume is high. If you enter variations (e.g. "chocolate fudge cake") you are likely to encounter data that was not shown previously
Using the tool
There are two primary ways to get useful data for SEO from the keyword planner:
Enter a list of starting keywords for Google to expand
Enter a URL that ranks for keywords that are of interest. This URL can be your own – or someone else's!
First of all, choose the option to "Search for new keywords using a phrase, website or category":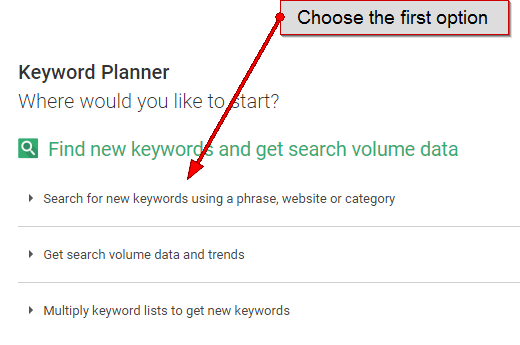 Next choose one of the first two boxes to decide how you will gather initial data: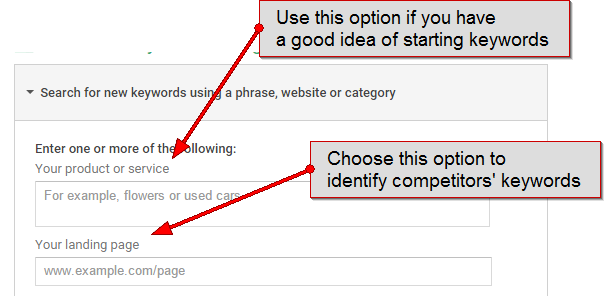 Finding competitors' keywords
If you're not sure which keywords to start with, pick a high-ranking URL that offers the same product or service you do. This could be:
A broad competitor (e.g. a well-ranked site like Amazon)
A direct competitor
A highly ranked informational page (e.g. Wikipedia)
Your own site
For this example, we searched Google for the first site that ranks for our "chocolate cake" keyword and copied the URL to their page. For instance, the top result for "chocolate cake" in the UK is the BBC Good Food site, and the URL to their page can be entered in the box labelled "your landing page".
Depending on the nature of the page entered, you may find there are results that are not completely related to your search. In this example, we get quite a few cakes that are not made of chocolate. On the left hand side of the page there is an expandable 'options' section where we can only show results that contain "chocolate":
With our new set of results, go ahead and sort results by search volume, by clicking on the "Avg. monthly searches" column heading.
Ad groups
Google's default grouping of keywords, while obviously intended for advertising campaigns, is actually very useful: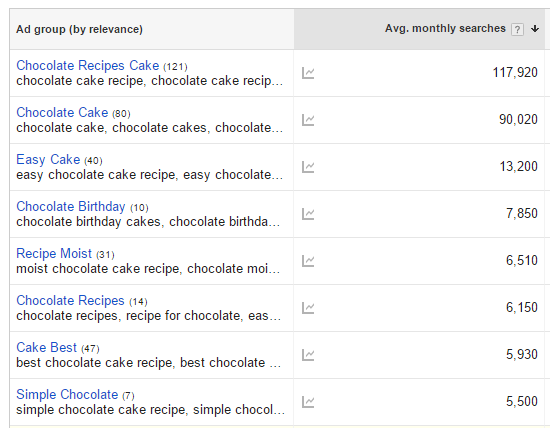 Each group can be regarded as a potential page we could create about chocolate cakes, in this instance:
Chocolate cakes

Recipes

Easy
Birthday
Moist
Best
Simple
We might use some editorial insight and consider combining "simple" and "easy", perhaps, but overall these concepts would make good landing pages. To 'drill down' into more specific data, we can click on the keywords tab:
Now we can see specific keywords we should be using within our content. Google is likely to consider that the 'ultimate' site about chocolate cakes will contain many of these keyword concepts, probably on different pages. The BBC do just that: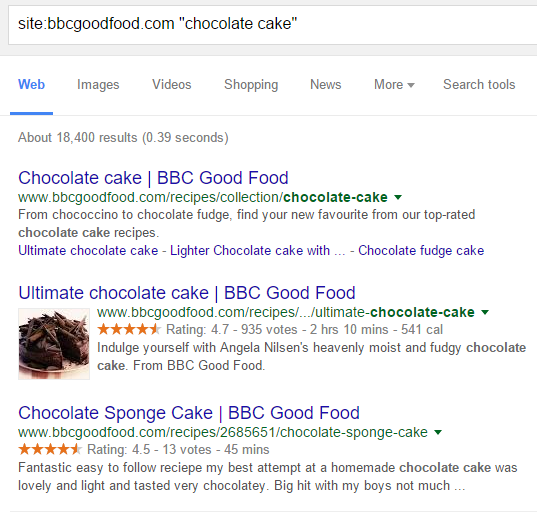 Notice there are almost 20,000 results from the site, with many targeting distinct keywords. The top result (since our query is generic) is the page that leads to the more specific content. Also notice that the structure of the site is almost identical to our brief map of possible keywords based on Google's ad groups.
Using 'seed' keywords
If you have a good idea of your 'main' keywords and are looking for variations, entering seed keywords is a good way to get an immediate overview. For our example here, we'll enter "chocolate cake, chocolate cakes". The reason we use both the singular and the plural is because this will provide more data (even if Google implies that it won't!). Again, we'll see ad groups: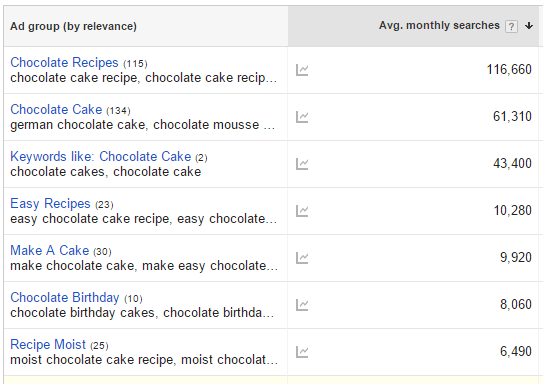 You'll notice that we have slightly different groups here, albeit with a lot of crossover. We now have "make" as a possible landing page, which wasn't present on the BBC site because it was implied by "recipe". Let's take a look at the keywords tab:
Again, we see the "make" keyword as another possible candidate.
Useful filters and filtering techniques
Commercial keywords
The presence of advertisers who are prepared to pay for traffic for a keyword is a reasonable indicator of how 'transactional' a keyword is. The higher the price, the more commercial intent is likely to lie behind a search. We can filter keywords to those with a high probability of commercial intent using the "customise your search" option on the left. Put in a bid of a least £1:
This will change most results fairly dramatically: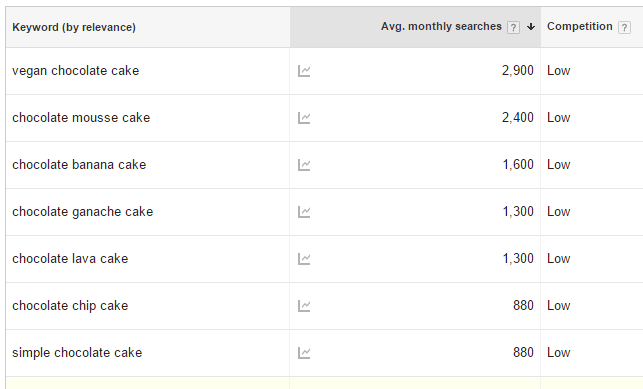 Notice we've now lost most of the recipe searches, to be replaced by specific cake variants that people are more likely to want to buy, rather than just view a recipe.
A related technique is to use a "high" competition filter in the same section where we entered a bid filter. This results in the below:
This tells us that the if we're trying to sell cakes (rather than just attract visitors) we can focus on:
Events that might involve chocolate cake
Explicitly-named products ("mix")
The words "delivery" and "buy"
Avoiding overly-broad results
If you see results that are not a good fit for your particular product or service, you can either filter by a "required" keyword as we suggested above, or use Google's own option for "closely related" words: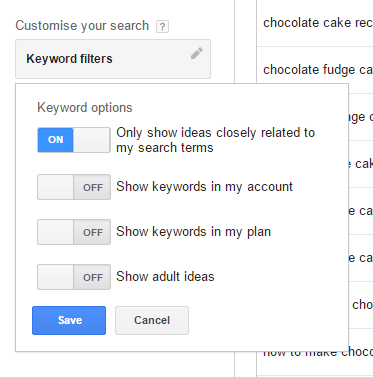 Local results
If your site targets a UK audience, you will almost always want the whole of the UK selected as a filter. For highly-local services, you can also filter by cities: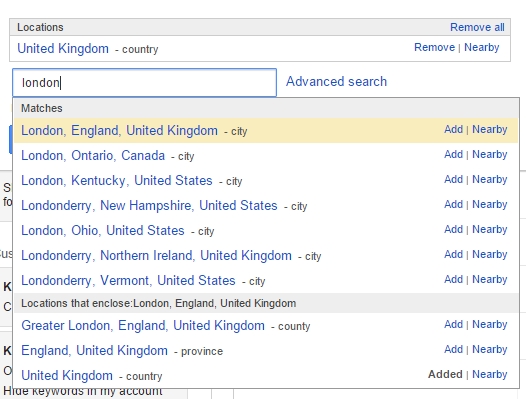 Negative keywords
Negative keywords will remove any data for keywords that contain the words provided. This is especially useful if your keyword is ambiguous – for instance if you sell tablet computers and want to eliminate medicines (tablets) from your data. Be careful with negative keywords or you risk removing data that would otherwise be useful.
Saving Keyword Planner data
There are two ways to save the data that you find most useful:
Use Google's 'Add to plan' feature (you don't actually have to create a campaign from the plan)
Export it to a spreadsheet where you can play with the data
Most SEOs prefer spreadsheets because it allows you to add customised data.